SITE123 – is an easy-to-use website builder that makes it possible to create promo sites, landing pages, blogs, and small online shops. All websites created on the basis of this platform are responsive and can be browsed on any mobile device.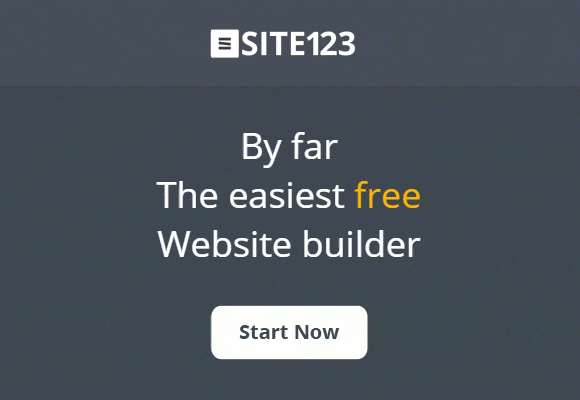 The website builder is currently considered one of the simplest and most intuitive DIY systems ever. It comes with a simple editor, which is more efficient as compared to those of standard drag-and-drop website builders. The platform also allows sharing your website content and updates on social media to spread the word about your business.
The service is mainly oriented on users and business owners, who need a website quickly, easily and without settling for less when it comes to quality and professionalism. The fact is that SITE123 is so simple and easy-to-use that even newbies willing to develop custom-built websites can use it. No coding, web design skills or experience of working with databases and hosting settings are required to do that. The system has a user-friendly and understandable multilingual (available in more than 15 languages) interface. So, let's test it now to make the unbiased conclusions.
Site123 Reviews: Introduction
Let me shortly introduce you to the Site123. It's a relatively new platform, launched in 2016 with an intention to allow even the least technically savvy people create their personal website.
Similar to other website builders, Site123 is created for those who have very minimal time and zero coding knowledge but want to get their website up in no time. The name Site123 means that you can create a site in as simple as 1-2-3.
It aimed mostly for the creation of personal sites and small shops, and, of course, for beginners who don't have any previous experience and want to start off with something simple.
This is the very basic information about the Site123. In order to find out more, you should go further into Site123 reviews and each of its features.
Site123 Pricing
Want to find out the Site123 pricing? That's what I thought. Take a look into the picture and information below to find out everything there is to know about Site123 plans, pricing, and features.
Finally, the time has come to move to the Site123 pricing. Here are the plan options you can choose from:
BASIC – $7.80 USD/month (yearly plan)
ADVANCED – $13.80 USD/month (yearly plan)
PROFESSIONAL – $19.80 USD/month (yearly plan)
GOLD – $25.80 USD/monthly (yearly plan)
The Basic plan is aimed for personal usage. It offers a free domain for one year, 10 GB storage, 5 GB bandwidth, and a few more features, which you can see in the picture above.
The Advanced plan is for small businesses, it offers two additional mailboxes, one additional language, and you can remove the SITE123 footer tag.
The Professional plan is intended for business & eCommerce sites. It might be obvious but it adds additional Ecommerce features, 500 orders per month and credit card gateways.
The last and the most extensive plan is called Gold, it offers every possible feature, including additional advanced eCommerce features, wishlist, and reviews.
Therefore, you should choose the plan based on your personal needs, expectations, and preferences. Overall, considering Site123 pricing, I could say that it's lower than average website builders' prices, such as Wix or Shopify.

Site123 Reviews: Pros
You might have a major understanding of the Site123 working principle but you're far from knowing whether or not it's worthy of your attention. But that's what this Site123 review is for – move further to each of the pros and see what it's made of.
Easy to Use
Site123 is quite similar to Wix ADI, which creates a website based on your personal needs. Using Site123, you choose what kind of site you want to create, type in your name and wait a few seconds until your website is created. Then you can customize a bit more, change images, type in texts, and so on. Sounds pretty simple, right?
In order to make sure that Site123 is so simple to use for other users, as it was simple to me, I went through Site123 reviews and collected the needed information. I have to say that none of the users found the Site123 difficult to manage when they performed basic and the most necessary tasks.
Of course, when talking about more complicated tasks, such as navigation bar customization, integrating media accounts, and many other things, some users did feel like it was a bit difficult but manageable.
So, knowing that Site123 is not as extensive as the majority website builders, makes it even simpler for users who want to create a basic website without getting far into the details.
Of course, if you need a complex and comprehensive website builder, you should look into other platforms, such as WordPress or Wix, which are great for both beginners and advanced users.
Therefore, overall, if you have at least minimal digital skills, you will easily deal with the Site123 interface – it's one of the most user-friendly website builders I have ever encountered.
Site123 Support Makes Sure You're on the Right Track
I can tell from my personal experience that good customer service is very hard to find. When you need them, they're simply not there.
But I have to say that I never had an unpleasant experience with Site123, their live 24/7 help & support is something worth staying around. They will guide you through your website creation process and answer all of the questions you may be concerned about.
Therefore, if you start using Site123 and experience difficulties, you should never hesitate to write their customer support.
SEO Tools Available
If you want to start and grow your business, you will need to rank as high as possible in the search engines such as Google. In order to do that, you will need SEO (Search Engine Optimization) tools. So, needless to say, each of the website builders should have great SEO tools, otherwise, they may not be worthy of our attention. (Site123 reviews should always remind you of that)
Site123 will provide you with the ability to edit the meta title and description, customize URLs, add alt text to images to make your website more noticeable. It might sound difficult but knowing that Site123 help does everything to make your experience pleasant, that should be the least of your concern.
The only thing is that Site123 doesn't provide you with keyword research. If you're serious about your business, you should use SEO tools, such as Ahrefs, which can help you to get your content right. Trust me, it's one of the best ways to improve your website.
Once you will get SEO right, you will see a major difference.
Load Time, Uptime, and TTFB? Take a Look
I'm not sure if it's worth saying, as you already know. Site speed and Uptime is one of the most important aspects to consider when choosing the website builder. After all, when you create a website, you need it to be available at any time. Otherwise, there's a posibility to lose your potential clients.
I was pretty surprised taht many other Site123 reviews do not take site speed into consideration. That 's why I thought, it's a must!
Not to give you the jump-start, let me explain the meaning of the most important measures:
Uptime – shows the amount of time that the service is accessible. It's considered as the most crucial measure for a website. And it's quite clear why – when your website is down, no one can access your content.
Load Time – a measure that shows how long it takes for your website to fully load up. This measure should be good because it might lead to a high bounce rate – shows the percentage of visitors who do not stay on the website but rather go back quickly.
TTFB – measure, which shows the responsiveness of a webserver. To put it simply, it shows how quickly a website gets a response from a server. This measure is part of the load time.
So, in order to give you the valuable information, I performed the test of each of these measures and here are the full results:
Uptime – 99.98%. Site123 uptime is similar to Wix and the majority of other sites created using popular website builders. Therefore, the results are pretty good, even if we should aim for 100% uptime.
Load time – 1.61s. Everything less than 2s is really really good! Of course, the test is usually carried out on the very minimal sites. If your site is full of video, audio files, and high-quality images, your page will take much longer to load up.
TTFB – you can see the results below in the picture. As I'm mostly focused on the US servers, they couldn't be better. The TTBF goes from 58.2ms in New York to 315ms in San Francisco. Note that it also depends on the number of servers and their locations.
Therefore, it's obvious that using Site123, you can create fully-functioning, fast and reliable website.
Site123 Reviews: Cons
As you've seen, Site123 has many positive aspects to be considered. However, you may not like what you're about to find out. Let's move to the Site123 reviews cons and get each of them sorted out.
Social Media Fan? Then Site123 is Not for You
Today, social media has become one of the best ways to promote your products or services, whether it's Facebook, Instagram, Twitter, or any other platform, you may want to include it into your page.
First of all, Site123 offers you an ability to add 29 social media platforms, including:
Facebook
Youtube
Pinterest
Spotify
Tripadvisor
Tumblr
and so on…
So, I would say you can find each and every one of the most popular social media platforms.
But there's a very big problem – there's no way you can embed live social media feeds… We started off so good, and now it's completely ruined.
So, if you want to create a site where social media plays a significant role, I would recommend choosing another alternative, such as Wix.
Limited
At this point, there are a few different aspects that I would like to take your attention to.
First of all, you already know that Site123 is very easy to use. And I'm really glad about this fact. But you know that simplicity almost always means the lack of features. Well, at least so it is in this case.
I don't want you to get me wrong as Site123 does provide you with blogging and eCommerce features together with mobile responsive templates, and amazing user experience. BUT, these features are very limited and not aimed for big businesses.
Also, while Site123 is one of the most user-friendly platforms I've ever seen, you cannot expect to create a unique-looking website – templates are barely customizable, which is a problem for those who keep experimenting with their site design.
Another obstacle is that once you choose a template and go live, you cannot change it. It means that you either keep it the way it is or creates a website from zero.
Therefore, considering each of these facts I have to say that I would only recommend Site123 for those who want to create a personal website or own a small local shop, but not for big players.
Conclusions
Therefore, as it can be clear from the Site123 reviews, this website builder is mostly aimed for those who want to create a personal blog or small business website. Due to the lack of customization and extensive tools, it may not be the best option for big businesses.
What is more, from the Site123 reviews, it's clear that each and every one of the users were pleased with the live customer support and the help during the website creation. Even people with very minimal digital knowledge were able to create websites on their own.
Also, Site123 provides you with SEO tools, including the ability to edit the meta title and description, customize URLs, and add alt text to images. Also, our tests and other Site123 reviews showed that you can create very fast, modern, and fully performing websites using this website builder.
Of course, it also has some flaws, which might be crucial to some users. Site123 lacks customization, and once your website is live, you can no longer change a template. I also missed more extensive tools and the option to embed live social media feeds.
So, the question is, do I recommend Site123 website builder?
I would say yes and no. I would recommend this website builders for those who need an inexpensive service for personal usage. But for bigger companies, I would suggest creating a website on a different platform, such as Wix or WordPress.